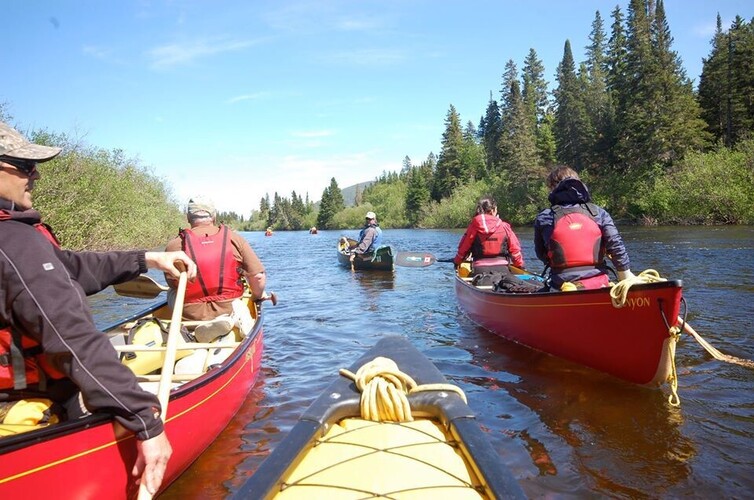 June 26, 2020
Top 20 Snowless Adventures on the Northern Odyssey
Trail networks in the forest, hidden waterfalls and sandy beaches as far as the eyes can see… it's time to hop a new kind of outdoor adventure on the Northern Odyssey. Here's our top 20 of the best snowless adventures to try in Northern New Brunswick in 2020!
1. Scenic Trails: Nepisiguit Mi'gmaq Trail and Méruimticook Trail
The Nepisiguit Mi'gmaq Trail is 147 km of discoveries and enchanting panoramas in pristine nature.
Reconnect with millennia of history and Mi'gmaq legends and finish your trek at the magnificent Daly Point Nature Reserve.
Photo: Gordon Meadow rope bridge on the Nepisiguit Mi'gmaq Trail.
Also, if you are in the Edmundston area, check out the 50 km long Méruimticook Trail.
2. Biking
Live the ultimate mountain biking experience in the Madawaska Trails that offer real mountain terrain. It's 60 km of pure adrenaline!
Rent a fat bike in Bathurst or bring your own bike and test your mettle in the MFB Chaleur trails or the Chaleur Green Trails. An exhilarating ride awaits you in both trail networks.
If you happen to be in the Acadian Peninsula, this region is home to the Véloroute, a fantastic 540-km cycling trail network crisscrossing the entire region.
Get ready to discover a cycling paradise in every region of the Northern Odyssey.
3. Cielo Glamping
You've been camping, but have you tried… glamping?
Book your "pearl" at the Cielo Glamping for a one-of-a-kind adventure on an enchanting site located between sea and forest that offers breathtaking views of the Acadian coastline.
Photo: Cielo Glamping in Haut-Shippagan.
4. Golf
The beauty of golf is that no two golf courses are exactly the same anywhere in the world!
Prepare for some splendid outings on the fairways and greens uniquely found on the Northern Odyssey!
Players of all levels will have an extraordinary sporting experience while being surrounded with magnificent green landscapes.
Edmundston: Fraser Edmundston Golf Club
Campbellton: Restigouche Golf & Country Club
Chaleur Region: Gowan Brae Golf & Country Club and Squire Green Golf Club, both in Bathurst
Acadian Peninsula: Pokemouche Golf Club
5. Beaches
There's nothing quite as relaxing as an afternoon spent at the beach!
Photo: Youghall Beach in Bathurst.
Admire the Capes at Pokeshaw Beach, play beach volleyball at Youghall Beach, contemplate postcard-like sunsets at Beresford Beach, walk one of the longest sandbars in Charlo, go clam fishing on the Bas-Caraquet Beach…
…or visit Miscou Island that is revered for its beaches with majestic dunes!
Photo: Bas-Caraquet Beach.
6. Historical sites and museums
Visit authentic houses and buildings dating from 1770 to 1949 inhabited by interpretive guides portraying the daily lives of the Acadians in their historical context at the Village historique acadien.
Photo: Château Albert at the Village historique acadien.
Be sure to visit the Place des pionniers, a beautiful and colourful small-scale reproduction of the village of Saint-François as it was in the past.
Also make time for some fine arts at the Restigouche Gallery in Campbellton.
7. Miscou Lighthouse
A visit at the Miscou Lighthouse gives you a total change of scenery and this site enchants thousands of visitors each year.
Discover this amazing 23-meter-high lighthouse dating from 1856.
Climb up the Recognized Federal Heritage Building and admire the unique setting found on Miscou Island!
8. Coffee Shops
How does tasting a fine French pastry, at l'Auberge d'Anjou – Cocooning Café in Petit-Rocher, sound?
Or maybe you want to sip on a specialty coffee at Kaffeine Espresso Bar in Bathurst, or be amazed by a beautiful latte art at Grains de Folie in Caraquet.
Photo: Yummy looking Energy/Protein Balls at Café Europa in Campbellton.
Aloha Café-Boutique in Lamèque and Café Europa in Campbellton both have delicious, healthy and tasty food.
If you want to try an all vegetarian menu, you don't want to miss Café Lotus Bleu in Edmundston.
Photo: Fantastic vegetarian lasagna at Lotus Bleu in Edmundston.
9. République Provincial Park and Botanical Garden of N. B.
Plan the perfect weekend outdoor escapade on this large recreative park located on the shores of the Madawaska River.
You will find scenic trails, sports fields, a large campground, a semi-Olympic pool, and much more!
Photo: Water biking on the Madawaska River at the République Provincial Park.
Don't leave the site without water biking on the beautiful Madawaska River, and be sure to visit their Antique Automobile Museum!
While you're there, explore the magnificent New Brunswick Botanical Garden with its thematic gardens and go see giant butterflies in their Butterfly Room.
10. Restigouche River Experience Centre
Experience the atmosphere of the world-famous fishing camps by the Restigouche River!
Guided tours, introduction to fly tying, and fly fishing are just a few of the many unique activities available to you.
Photo: Magnificent evening view of the Restigouche River Experience Centre.
Camp by the river at RV Camping, adjacent to the Experience Centre, for a breathtaking view on the River and the Appalachian Mountains.
11. Sugarloaf Provincial Park
Go for a hike to the peak of the Sugarloaf Mountain and get a panoramic view like no other of the Chaleur Bay, the Restigouche River and the Appalachian Mountain Range.
The Sugarloaf Provincial Park is your natural wonderland for biking, hiking, camping, canoeing and more!
12. Sugarloaf's Downhill Bike Park
Discover Canada's only lift-service mountain bike park, which was built by none other than world-class bike park designers Gravity Logic.
Riders of all levels will get an exhilarating challenge in this downhill park located in the Sugarloaf Provincial Park!
13. Unique Fishing Opportunities
Book your all-inclusive kayak fishing tour with a qualified guide. Bass Attack Fishing offers tours for 1 to 4 people.
If you're lucky enough, you'll catch a wonderful sunset on the Bay of Chaleur.
Don't miss Catch n Kayak's event for 2020. With a new format for this year, you'll be able to participate from anywhere!
14. Microbreweries
Northern New Brunswick's microbreweries are committed to developing a beer culture that's authentic to their region and is intricately weaved with rich folklore and unique aromas.
Here's why they are all worth raising a glass to:
Edmundston
Les Brasseurs du Petit-Sault: this Belgian-inspired brewery offers beer brimming with character!
Take the unique opportunity to taste a beer made from water drawn from the winding Iroquois River basin, and enjoy it all around their legendary "La Grand'Table" (The Big Table) for a truly unique experience.
Campbellton - Restigouche
Near Campbellton, Savoie's Brewhouse hopes to bring more awareness and variety of craft beer to the Restigouche area and around the province.
Photo: Refreshing beers served on a hot day at Savoie's Brewhouse.
Enjoy a beer while learning about the unique attraction they are named after.
Chaleur - Bathurst
13 Barrels Brewing: Their unique beers of quality paired with an open concept community tasting room and a waterfront view is what makes this place so special.
Have a flight of different batches while you see the head brewer in action!
Four Rivers Brewing Co.: Winner of the 2018 ACBA New Brewery of the Year, they proudly pour a wide selection of quality brews, including a visually spectacular nitrogen stout.
Enjoy a pint in their tasting room or grab a growler to go!
Acadian Peninsula
Distillerie Fils du Roy: World-renowned for their award-winning Gin Thuya, Distillerie Fils du Roy's take on specialized beers is equally impressive.
For an extra dose of folklore, the names of stories of their brewed creations often refer to characters and events from the region's strong Acadian heritage.
Brasseux d'la Côte: This is the perfect spot for a refreshing craft beer in the heart of the Acadian Peninsula.
Brasseux d'la Côte -- which translates to "Brewers from the coast" -- offers an impressive selection of authentic Acadian microbrews in their own tasting room and in many restaurants across the region.
15. Seafood and fresh local products
Northern New Brunswick is renowned for its fresh local products and seafood available throughout the seasons.
Traditional ployes, freshly caught lobster, desserts concocted with fresh berries from the season….
...you'll find top-quality restaurants serving you delicious meals everywhere on the Northern Odyssey.
Find a curated list of great eats for each region here:
Acadian Peninsula: See the list starting on page 68 of this guide.
16. L'Esplanade Restigouche and various attractions
Enjoy a fantastic view of the Restigouche River while walking along the Campbellton Waterfront Esplanade and wave to Restigouche Sam, their iconic 8.5-m tall Atlantic salmon sculpture.
Experience some of the most wonderful sunsets, discover the Andrew Street Community Placemaking project, visit their cultural monuments and lighthouse, and enjoy the various recreative facilities at the Memorial Regional Civic Centre.
17. Bustling downtown areas
Discover the delights of the season on foot in Edmundston. Their bakery, microbrewery, specialized and vegetarian coffee shops, and restaurants will amaze you. There's also great public art to enjoy.
The locals will make you feel like you belong from the beginning in downtown Campbellton. Their merchants always team up to offer a variety of activities, events and entertainment that the entire family can enjoy.
With its many restaurants, an outstanding artisanal confectionery, several microbreweries, stores and bars, there's never a moment of idleness in downtown Bathurst. Also admire the charming park benches painted by local artists.
Photo: Aquaparc in Tracadie.
Place of origin of the "up and down", downtown Tracadie is the place to be in the Acadian Peninsula on the weekends. Find many great restaurants and stores, buy great local products at their public market or enjoy the Aquaparc de la rivière Tracadie located two minutes away from downtown.
18. Aquatic Sports
Looking for thrilling adventures on the water? You'll find no shortage of fun aquatic sports and activities to do on the Northern Odyssey!
Chaleur Region
Bring your own kayak, canoe or paddle board to enjoy the beautiful Beresford Salt Marsh, the Bay of Bathurst, the Bay of Chaleur or the Nepisiguit River just to name a few.
Restigouche Region
Arpin Canoe Restigouche: Rent a canoe and conquer the majestic Restigouche river.
Madawaska Region
KASAKAYAK: Go for a kayak or a canoe expedition on the Green River for a day surrounded with natural landscapes of wild beauty.
Acadian Peninsula
Paddle Board with Acadie Surf: The joy with paddle board is that everyone can do it! Be sure to go paddling with Acadie Surf!
The more venturesome of you will also enjoy discovering kitesurfing in the Peninsula!
19. Quad
In addition to our impeccable snowmobile trails in the winter, we also pride ourselves in having remarkably well-groomed quad trails everywhere on the Odyssey.
Connect with our local clubs and prepare to discover lakes surrounded by rural landscapes, streams, magnificent mountains and a spectacular wildlife.
Edmundston Region: Discover the majestic Green River forest. Connect with Club V.T.T. du Nord-Ouest.
Campbellton Region: Surround yourself with the Appalachian Mountains! Connect with Club VTT/ATV Restigouche or ATV Club 2000.
Photo : Trails in the Madawaska Region. (Club V.T.T. du Nord-Ouest)
Chaleur Region: Enjoy hours and hours of trails and impressive landscapes. Connect with ATV Chaleur Club.
Acadian Peninsula: Ride along beautiful coastal settings. Find the clubs of the Peninsula on this list.
Get your interactive map of the trails here!
20. Pabineau Falls
Discover a true hidden gem of the Chaleur Region and prepare to be amazed by the breathtaking natural landscapes that Pabineau Falls have to offer.
Cool fact: the granite at Pabineau Falls has the impressive age of 397 million years!
After you've worked up an appetite, stop by Pabineau Seafood Restaurant to try one of their legendary lobster rolls!
~~~~
Why not go ahead a plan a trip to all four regions of the Northern Odyssey this summer?
Come enjoy the natural outdoor playgrounds that are the Chaleur Region, the Acadian Peninsula, Edmundston, and Campbellton!
See you soon!