January 27, 2020
One-on-one with a seasoned sledder: Valmond Hachey
Are you eager to discover new trails and live a wild snowmobile adventure? Good news: you've come to the right place!
Impeccably groomed trails, picturesque landscapes, and endless discoveries; that's what the Northern Odyssey has in store for you.
Who better than Valmond Hachey, President of the Chaleur Snowmobile Club, to give us an exclusive interview showcasing the trail system he knows so well?
Hi Valmond, thank you for taking time to chat with us. Could you tell us a little bit about your club?
The Chaleur Snowmobile Club Inc. has been present in the Chaleur Region for 40 years already. With its 550 members, of which 90 are out-of-region members (N.S. and P.E.I.), the club is well known in the Chaleur Region.
In total, we manage 187 km (116 miles) of trails, which is quite a challenge for the volunteers. We have two groomers in activity at all time to ensure great trail conditions.
Can you tell us what makes your club so special?
Our club is renowned for its warm hospitality. It has good support from the Chaleur Region, which plays an integral part in its success.
Among other activities, we organize dinners every two weeks (on Fridays) to fundraise and help us cover grooming costs throughout the season.
Trail-grooming is always our top concern during the season, especially during these past couple of winters (lots and lots of snow plus freezing rain at times). It always gives us some challenges to overcome.
Can you describe your trail system and your club's grooming efforts?
Our territory mainly covers trail 19, which begins at Atlantic Host, a well-known location among sledders.
We also manage trail 304, at Danny's, another very beautiful location, as well as trail 301, on which the sugar camp of the Auberge Ressources Inn is located, near Road 180 at about 50 km (30 miles) from the city.
This inn is an excellent place for food, accommodation and gas.
Trail 301 is connected to trail 22, giving you access to several other trails nearby leading to beautiful places, such as the Rogers Lake Lodge, toward Nepisiguit Sports Lodge (22 East; 507; 23) or the Island Lake Lodge, toward Balmoral, another marvel for snowmobilers (little lodges for rent, gas, restaurant, etc.)
We are also responsible for trails 310, leading to Beresford, Nigadoo, Petit-Rocher and Pointe-Verte, and 303 giving us magnificent views of our region.
Maintaining all these beautiful trails takes a lot of effort, which is why we have two groomers always in action 24/7 during the 16-week-long season.
What are the tips you would like to share with someone preparing to go snowmobiling on the Chaleur Region's trails this winter?
I would tell people who wish to come snowmobiling in the Chaleur Region that they will love their experience for sure!
My advice would be to make sure you get a trail permit, either seasonal or based on the number of days of your stay (1-day, 3-day, or 7-day permit).
This pass will allow you to ride anywhere on the trail system of the New Brunswick Federation of Snowmobile Clubs (NBFSC).
You can obtain these permits at a couple of places in the region (at snowmobile clubs, at Danny's and at Atlantic Host).
If possible, support us by identifying no. 4 as your NBFSC club.
Can you tell us what winters are like in this region and what is so fun about them for snowmobile visitors in the Chaleur region?
What makes our winter special is the fact that we have lots of snow every year and that our snowmobilers can practice their sport from the beginning of the season until the end (December 15-April 15).
How would you describe the Chaleur Region snowmobile experience? What is special about snowmobiling in this region?
What tourists tell us they particularly enjoy is our impeccably groomed trails and the various loops they can ride a little everywhere around the area.
They like the fact that they can vary the set of trails they use to travel between locations, allowing them to discover new trails every day.
Could you give us an idea of what experienced snowmobilers can expect to discover when they come here?
Experienced sledders tell us our trails are one of the reasons why they come back. They also appreciate the opportunity to meet many snowmobilers coming from everywhere and find delicious meals on almost every trail.
Is there anything you would like to tell a snowmobile newbie who might like to have a first experience in this region?
I would tell them to come and have fun! There are places where you can rent a snowmobile, and it's possible to ride super easy short loops.
Do you have a favourite landmark or trail in the region that you would like to share with us?
You must ride trail 19-West, toward Island Lake, and trail 22-East, in direction of Roger's Lake. Take some time to admire the small valleys.
What are your favourite spots to eat while snowmobiling on the trails?
There is a lot of choice on our trails. You can find great food on almost all of them. Of course, more options are available on trails located near small villages.
These past couple of years, many little trails leading to restaurants have been added, especially in the Acadian Peninsula on trails 19 and 48.
Could you tell me about the events or activities your club is planning to organize this year?
We organize dinners that are always delicious at the club every two weeks, plus we have a smelt day in February.
We also organize other popular activities at our club, such as the Ring and Wing in March, the T-bone steak event toward the end of the season in April, and snowmobile rallies on local trails.
Can we have some details concerning dates, places, costs, etc.?
The dinners are always held at the club at $15 a plate. They will take place every odd Friday, starting January 10, 2020 at 7 pm.
The smelt day will be on February 1 at $5 a plate.
We will have the Ring and Wing on March 21. The meals will be sold for $6, and $1 of each plate will be sent to the local SPCA as a donation.
The T-bone steak event will be held on April 11 from 1 pm to 7 pm at $25 a plate followed by a dance at the club. We always invite special guests to perform for this event.
We also have our wings nights on Wednesdays, and we often have local artists performing at the club on Saturdays.
Is there anything specific our visitors should not miss?
Probably the free trail pass weekend of February 21-23 (NBFSC). It's the perfect opportunity to discover the trail system in the Chaleur Region.
Did you plan anything specific for the NBFSC's Tourism Weekend (February 21-23, 2020)?
Yes, we have a committee currently organizing a family activity for that weekend. We will have something for sure! For my part, I'll be welcoming a group from Quebec coming to meet us and try our trails for the first time.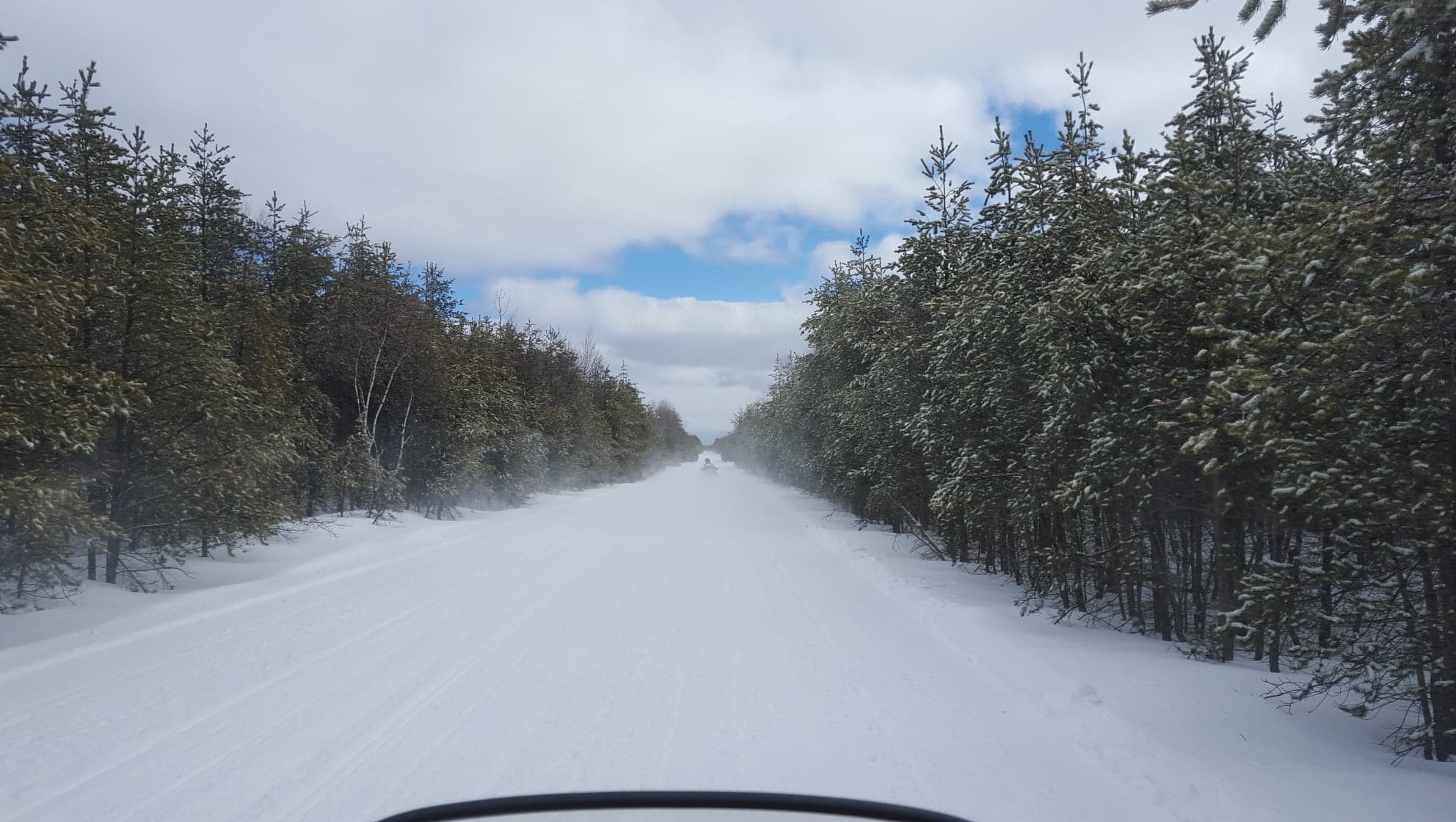 ~~~~
Go ahead and plan an extraordinary winter adventure on the Northern Odyssey!
Also check out our loop recommendations, including Valmond Hachey's very own Sweet ride around the Sugarloaf, to help you plan your trip.
Our snowy trails are there for you to enjoy!