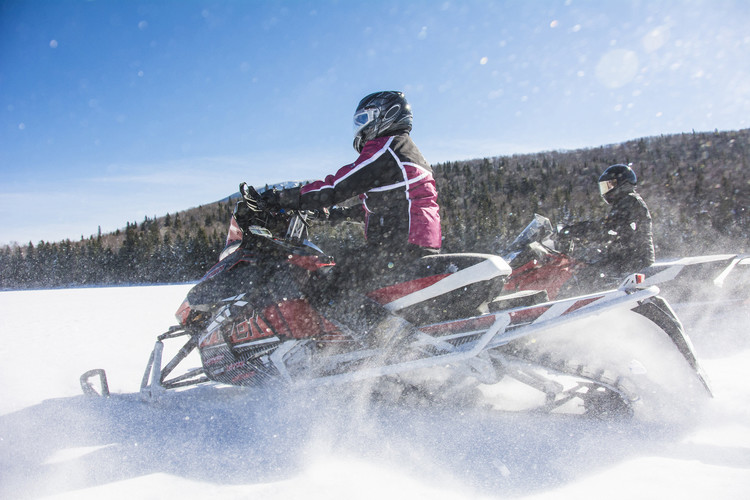 January 24, 2020
One-on-one with a Seasoned Sledder: Dave Brewster
If you're looking for an exhilarating adventure combining jaw-dropping landscapes and fantastic trail conditions, you'll want to spend some time in the Chaleur Region.
To better introduce you to this beautiful area found on the Northern Odyssey, we had a quick interview with Dave Brewster, Vice President of the Nepisiguit Sports Lodge, one of the Chaleur Region's three local snowmobile clubs.
Here's what our true trail veteran had to share with us:
What are the tips you would like to share with someone preparing to go snowmobiling on the Chaleur Region's trails this winter?
Dave: Lay out the planned trip before you start and let people at home know where you are going. Verify where you can refill with fuel so you do not run out. Always travel with a group or at least one other sledder.
Be sure to travel at a speed where you have full comfortable control of your machine and drive on the right side of the trail to avoid oncoming traffic.
Alcohol and snowmobiling do not mix. It takes 100% concentration to handle a snowmobile so always save the alcoholic beverages for the end of the day when the sled is put away.
Can you tell us what winters are like in this region and what is so great about them for snowmobilers travelling to the Chaleur region?
Dave: The winters in Bathurst are fairly cool with a lot of snow. Bathurst will see around 3 metres of snow during the winter (editor's note: even reaching record snowfalls of 5.3 m in 2008!) and offers fantastic trail riding as well as a growing attraction of off-trail riding by experienced sledders.
The most satisfying experience is the uninterrupted trail system. Sledders can travel miles without seeing a stop sign or a cross trail.
How would you describe the Chaleur Region snowmobile experience? What is special about snowmobiling in this region?
Dave: The great thing about the Chaleur Region Trail system is you can select a number of different loops depending on the distance and direction you would like to travel.
You can also see beautiful mountain sides covered in pristine snow.
There are several lodges to provide food, fuel and a chance to rest. Some of these lodges will even offer overnight accommodation.
Could you give us an idea of what an experienced snowmobiler can expect to discover when he or she will come snowmobiling around here?
Dave: Even an experienced sledder will find breathtaking views all along the Chaleur trail system. A number of trails run parallel to rivers and lakes with high mountains in the background.
There will be long stretches where you can open up your sled safely to make up time you may lose when travelling in wooded areas. These trails can reach widths of 12 metres (40 feet) to provide more safety.
A number of visitors come to Bathurst to enter the Northern Odyssey. This is a trail system that runs around the whole of Northern New Brunswick.
It will lead from Bathurst to Campbellton on to Edmundston back to Miramichi and then to Bathurst. This can take anywhere from 2-4 days depending on how long you ride each day.
Snowmobilers will bring some basic clothing for overnight stays on their snowmobiles. Accommodation rates are very reasonable and are all designed to deal with snowmobilers in the winter.
They all cater to your needs in providing the special type of service you require as well as high security for your equipment.
Is there anything you would like to tell a snowmobile newbie who might like to have a first experience in this region?
Dave: For beginners it is recommended to keep your first experience short and sweet. Do not try and run 200 km (125 miles) for the day with experienced snowmobilers as this requires a lot of energy and talent that you need to develop.
Most beginners start out holding on for dear life to their snowmobile and tire out within 10 km (6 miles). Driving any snowmobile requires you to relax and keep a light grip on the controls. You can learn this by starting with 100 km (60 miles) runs at the beginning.
Above all, drive slow and keep the speed of your sled within your comfort level at all times. Stay back 90-122 metres (300-400 feet) from the sled in front of you to give yourself plenty of time to stop. Never try to keep up with the sled in front of you if it requires you to go beyond your comfort level.
You will always catch up with the group as they will stop periodically to check on everyone. Trying to keep up with a faster snowmobile in front of you is the biggest contributor to accidents.
Can you give me an impression of what it's like to discover a new trail for you? What do you like about it? What are you looking for in a new trail? What makes it exciting or interesting to you?
Dave: We have several trails that run through the most remote areas of New Brunswick. There are times under the right conditions that the trees are covered with snow and tend to shape a tunnel right over the trail.
This can be an absolutely spectacular experience and one you will never forget.
The best trails are the ones which are relatively straight with very few turns. Long twisting trails can be hard to navigate and require your full attention to avoid oncoming snowmobiles.
What are your favourite spots to eat while snowmobiling on the trails?
Dave: Any one of the lodges located throughout the Chaleur Trail System offers wonderful food. Supervillage Lodge has an excellent menu of homemade meals that will fill you up no matter how big the appetite as well as Nepisiguit Sports Lodge, Rogers Lake Lodge, Island Lake Lodge, Serpentine Lodge and Chaleur Club Lodge.
All these facilities offer food and gas and very nice clubhouses for a rest while enjoying your meal.
Do you have a favourite landmark or trail in the region that you would like to share with us?
Dave: Nepisiguit is known throughout the snowmobile industry as the home of "Piston Alley". This relatively straight section of trail runs 30 km (20 miles) from Rogers Lake to Governors Lodge. The trail runs parallel to the Nepisiguit River and is groomed very wide. For the experienced snowmobiler, it offers an opportunity to "try out your machine".
Piston Alley is well named.
Also, at the end of Piston Alley, you will enter into breathtaking scenery as you climb up to some of the highest elevations in New Brunswick known as the "Big South" heading towards Serpentine Lodge.
To me, the most beautiful trail you will see in northern New Brunswick is in Mount Carleton Provincial Park and runs adjacent to the Bathurst Lakes. Mount Sagamook is in the background and there are nice areas to pull over and have a trail lunch while observing this beautiful scenery covered in a white sheet of snow with millions of trees all around.
Does your club have any special activities planned for this season?
Dave: There will be some trips planned for the long weekend of February 15-17. All visitors are also invited to participate in the 24th anniversary of our famous Danny Burger Run, which will be held on Feb. 29 and sponsored by Big D Drive-In and Rogers Lake Lodge. This event will draw 500 snowmobilers annually and you will enjoy the famous Danny Burger for a modest price.
Nepisiguit Club also has a Wednesday night supper at our lodge from January 8 to April 1 all winter. These are first-class meals and include coffee or tea and dessert. A typical meal would be roast beef, turkey dinner or strip loin barbecued steak, etc.
~~~~
Join thousands of other sledders, this winter, and conquer new trails in the Chaleur Region!
Why not also explore the Acadian Peninsula, and the Edmundston and Campbellton areas!
A world of discoveries awaits you on the Northern Odyssey!